Inside-out Processing of Chemical Vapor Deposition
Using the layering capability inherent to chemical vapor deposition (CVD), Ultramet developed inside-out processing to facilitate the fabrication of complex functionally graded material systems.
Chemical Vapor Deposition (CVD) Process
Fabricate mandrel that conforms to inner dimensions of final component.
Deposit desired material(s).
Remove mandrel to yield final part.
Chemical Vapor Deposition (CVD) Advantages
Can deposit several materials to form a composite or lined structure
Can fabricate components with intricate inner geometries
Yields net-shape parts, requiring little or no postprocess machining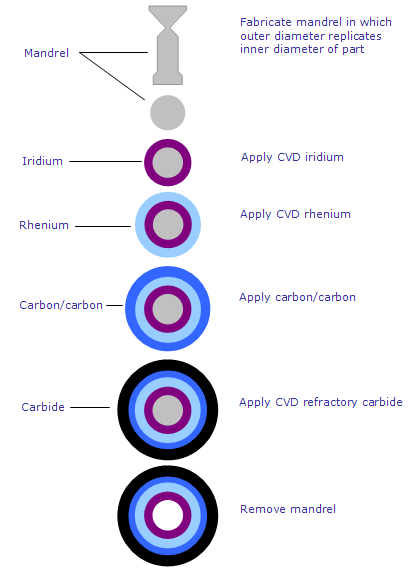 Inside-out CVD processing of iridium-rhenium-lined carbon/carbon structure